Partnership Stories
Additional Partnership Stories to Come
Please visit this page again soon - it will be populated in coming weeks with more stories of partnerships and projects between Kenya Mission Network members and Kenyan partners. To learn more about submittal criteria, send an email to kenyamissionnetwork@icloud.com .
Newton and Nairobi Presbyteries
Churches and individuals in the Newton Presbytery of NW New Jersey have been in mission with churches and presbyteries in Nairobi for more than 25 years. Efforts have focused on a safe water delivery system, a primary school scholarship program and the commitment to create a primary care health facility for the economically depressed villagers surrounding the Town of Kibwezi. When the Bahati Martyrs Church established a nendeni in Kibwezi, the partnership actively participated. Presently, several Newton churches and members continue support and interaction with Kenyan colleagues in various ministries and Christian fellowship. Visit the links below for more information, or view the 25th Anniversary Video at: https://youtu.be/vWYti9dybxU
Hope for Kajiado Corporation has partnered with the World Outreach Foundation to build a multipurpose building at Kajiado Children's Home in Kajiado, Kenya. Funding was raised through Hope For Kajiado, and the June 2018 Mission Team completed the work on the building and the building dedication was attended by all of the children, staff and many local pastors. This building took the place of an old chapel on campus and will be used for their Sunday services. During the week, the building will be utilized to expand the tutoring program for all of the children in primary school to better prepare them for their class exams. There continues to be an emphasis on spiritual and educational development for the children to better prepare them to become Christian leaders in the community. For more information, visit the Hope for Kajiado website: www.hopeforkajiado.org
Orphan and Vulnerable Children - 2018 Njoro Mission Trip
A mission group from New York Avenue Presbyterian Church in Washington, DC completed a trip to Njoro, Kenya in August of 2018. The Orphan and Vulnerable Children program supports children in Njoro with housing, schooling, and spiritual support. Nine travelers participated with the students in worship, Vacation Bible School, and fellowship. Gifts were provided for all the students, and the group re-connected with four students who had visited Washington in 2017. For more information, read this report provided by Rev. Beth Braxton: Report of 2018 Njoro Mission Trip
Kenya Mission Partnership
The Kenya Mission Partnership is a collaboration between the Session of Community Presbyterian Church of Redmond, Oregon and the Session of Kisauni Parish in Mombasa, Kenya. Through the guidance of God and the Holy Spirit, our mission is to build a sustainable church-to-church, session-to-session and face-to-face ministry relationship with the Kisauni Parish, in the Presbyterian Church of East Africa (PCEA). The first phase consists of helping feed school children of the Parish seven days a week (see photo at right). Visit our blog page at: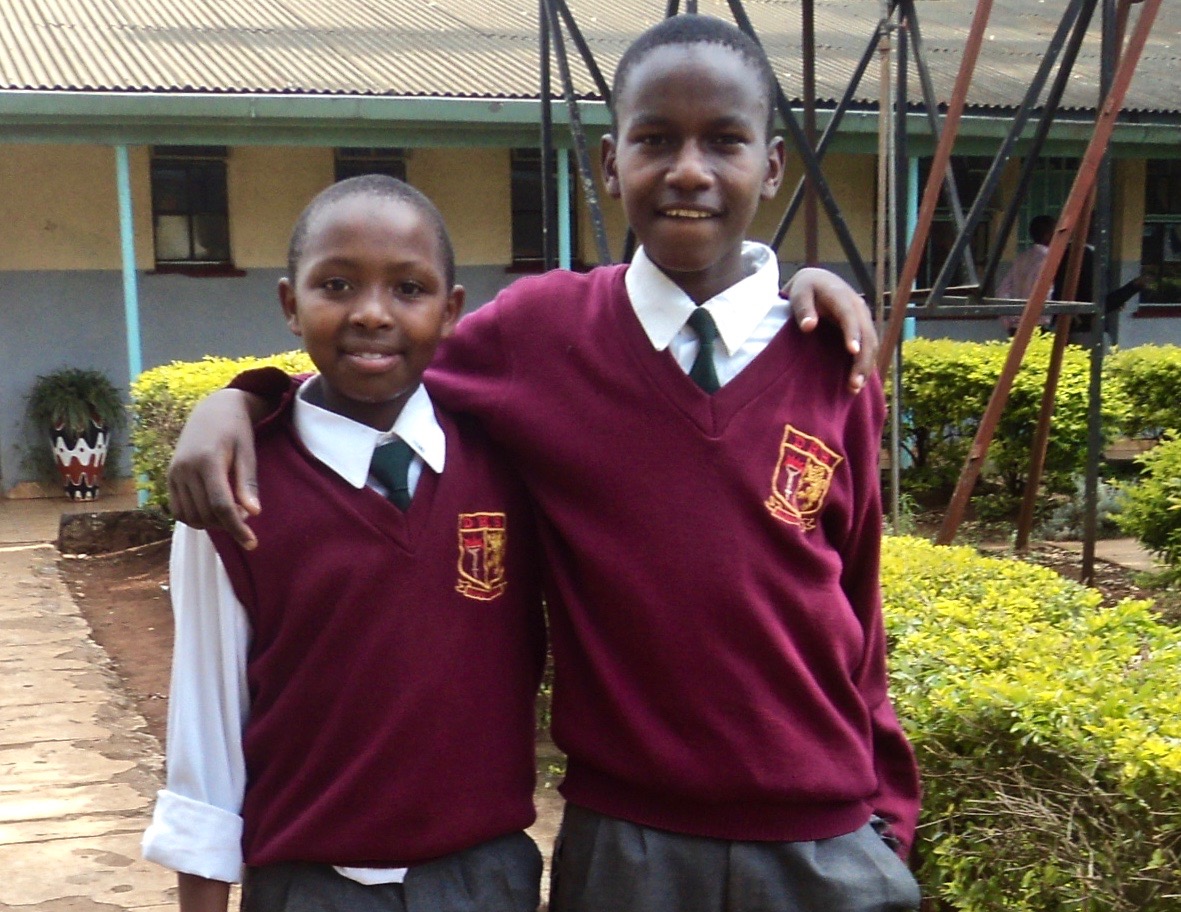 The Bahati Scholars program is a collaboration between First Presbyterian Church of Hilton Head Island, SC and the Nairobi Central Presbytery. Its purpose is to provide high school education for disadvantaged boys and girls in Nairobi, many of whom are former street children. Since 2008, nearly 200 students have participated, and many are now in college or gainfully employed. 58 students are pursuing their high school education in 2018. In the Summer of 2018, a group of eleven from First Presbyterian Church of Hilton Head Island traveled to Kenya to visit the students and meet with Presbytery leaders. For more information, read:
Send a Cow is a U.K.-based organization that provides agricultural training, education and livestock in several African countries, including Kenya. U.S. Board of Trustees Chair and PC(USA) ruling elder Robyn Davis Sekula of New Albany, Indiana, traveled with Send a Cow to Kenya in 2017 and is introducing the organization to Presbyterians and other churches. The organization works intensely with local self-help groups, offering training and education that aims to build sustainable livelihoods for Kenyan families. Send a Cow is in the midst of a three-year project in the Kakrao region in Western Kenya, working particularly with women who are HIV positive to help them create a food supply to feed themselves and their children. Through their work, the Send a Cow staff help women build confidence and fight gender inequality. You can read the story here that Robyn has written for Louisville-area magazine Extol, and you can email her at robynds@live.com.